New Lawns & Lawn Repair
Starting a lawn from scratch can be tricky. Repairing a lawn suffering from disease, bugs or die-off presents its own challenges, as well.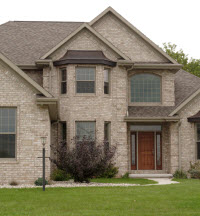 If you need a new lawn to green up your world, using the right elements is crucial. GMS offers many options to make it happen.
Sod installation offers an "instant lawn." GMS uses only the finest sod from local growers, a blend of Wisconsin blue grasses acclimated to our state's climate. Fertilizing the soil prior to sod installation sets the table for sustained growth.
We can also create a new lawn for you with grass seeding, using high-quality seed blends chosen specifically for your property. We'll top things off with fertilization to give the grass a healthy start.
If your lawn has bare or thin patches, our lawn experts will prescribe a treatment to get the grass growing again. We've diagnosed all sorts of conditions throughout Brookfield, Elm Grove and New Berlin - drought, insects, disease, erosion and snow plow damage, to name a few.
Whether you're starting a lawn or trying to revitalize an existing one, GMS will tailor a plan to meet your needs. After all, growing your lawn is what keeps our business growing.
Call or click to receive a quote for lawn grass seeding or sod installation for your new or existing home.