Lawn & Landscape Maintenance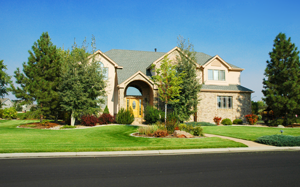 Imagine if your lawn and landscaping just took care of themselves. No mowing. No trimming. No weeding. No ... well, anything else. What could you do with all the time? 
GMS is ready to make your dream a reality. 
If you want to truly enjoy your home – without all the lawn care and landscape maintenance – leave the work to us. We'll create a showcase property that directly reflects on you, the owners. 
You won't be keeping up with the Joneses. You'll be the Joneses. 
Here's how it works: GMS will put your home on a regular schedule for landscape design and lawn treatment. We do all the work. You sit back with a drink, take a nap, read a book, play a round of golf ... whatever sounds good at the moment. 
Our "to-do" list will be lengthy: fertilize your lawn and landscape gardens, cut the grass, prune trees and shrubs, weed planting beds, and freshen up mulch. We'll clean up your property in the spring and fall, and collect leaves as needed. 
As importantly, while working to give you the best-looking yard on the block, we'll constantly monitor the overall health of your lawn and landscapes. Our consistent inspections, on a schedule you set, identify small problems before they grow large. 
Your yard will always look fresh and well-manicured. This "A to Z" service is available on a budget plan, too.
Why spend all those hours planting, weeding, trimming and pruning? GMS can make your yard resemble a golf course, so that you can spend more time on a real golf course - or doing whatever defines "relaxation" for you.
Call or click to receive a quote for "the best looking yard in the neighborhood".