Thank you for helping us feed the hungry!
We really didn't underestimate you. The generosity of our customers and many valued partners comes as little surprise. We've experienced it before.
Still, we delivered a dump truck full of food, diapers, cleaning products and personal hygiene items last week to the New Berlin Food Pantry. Estimated weight: more than 4,000 pounds.
The pantry director said it was the single largest donation ever received. Wow.
You came through. Many, many families in need will have food and other much-needed items this winter, thanks to your donations. The whole experience is a bit overwhelming, in a good way.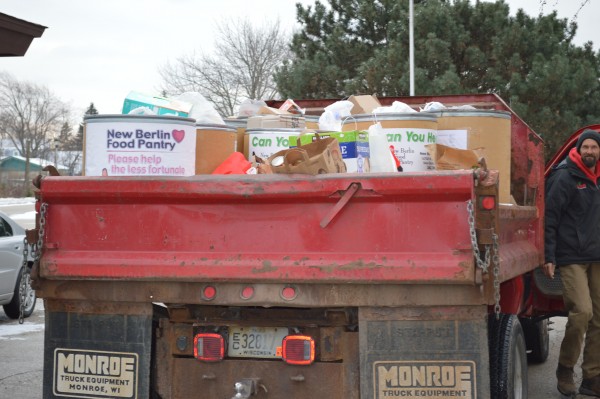 When we joined with 10 other local businesses in Brookfield, New Berlin and Elm Grove, WI, in mid-October to begin this collection, we had goals. Goals, but not expectations. We knew that people would benefit no matter the size of our ultimate donation. It's what mattered, really.
So when the barrels kept filling up, and the calls kept coming in, our hopes rose. Still, no expectations. Anything donated would help.
The snowball effect started early last week. Our partner businesses dropped off bags and bags full of items. We picked up full barrels at others.  Was this really happening? Apparently so.
Some TV cameras were there when we made the delivery. If you'd like to see how your generosity contributed to a great collective success, just watch:
http://fox6now.com/2014/11/19/wow-somebody-would-do-this-for-us-new-berlin-food-pantry-gets-dump-truck-filled-with-supplies/
http://www.cbs58.com/story/27429451/dump-truck-delivers-food-donations-to-new-berlin-food-pantry#.VG0EeWbO4oI.email
Several other local media outlets ran stories, too. Sure, the publicity is great. Our larger hope, though, is that people realize that hunger exists in our local communities. In Brookfield? Elm Grove? New Berlin? Yes, even if it's rarely talked about.
More importantly, though, we – meaning everyone who donated, collected, delivered and volunteered for this great effort – were able to do something to make a difference. It's teamwork at its best. For this, we can only say "Thank you."
<<-- Back to List
Email to a friend