Help us fight hunger in our local communities!
We're into November, and we all know what that means – food. Lots of it. A gigantic meal on Thanksgiving looms. The "season of eating" will soon commence.
Sadly, some of our neighbors can't share this perspective. Thanksgiving? It's an eternity away. They're wondering if they'll have enough to eat this week.
Yes, hunger exists in our local communities.
The concept of people being hungry in Brookfield, New Berlin and Elm Grove, WI, seems strange. You just don't hear about it. It's a problem that happens elsewhere, right? Yet, a job loss, serious illness or just plain bad luck can find once self-reliant local families scraping for enough food.
We at GMS, and 10 other local businesses, are doing something about it. You're invited to join us – and we'll make it as easy as possible to help.
Our goal is to fill a three-ton GMS dump truck with food and needed non-food items. All will be donated to the New Berlin Food Pantry, which serves New Berlin, Brookfield and Elm Grove.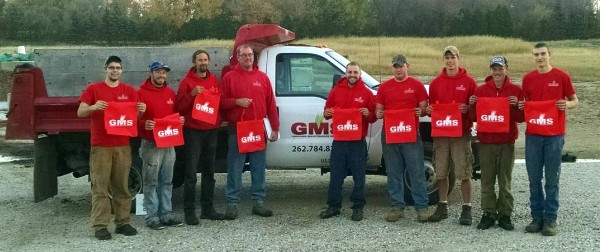 You can drop donations off at our office or any of the other 10 participating businesses. Here's what we're collecting:
Non-perishable food items (canned and boxed)
Diapers
Cleaning products
Personal hygiene items
Gift cards
If you lack transportation, or don't have time to drop off a donation, fear not. Just give us a call (262-784-8219). We'll deliver a red GMS bag to your doorstep. Fill it up, give us another call, and we'll pick it up. Simple as that.
We're at the end of the season for hauling mulch, dirt or gravel in our dump truck. We want to make one last delivery, though – a full load to the New Berlin Food Pantry.
Help us fill the truck with food and other goods for our neighbors in need. You'll probably never know who they are. Rest assured, they'll appreciate that you thought about them.
<<-- Back to List
Email to a friend