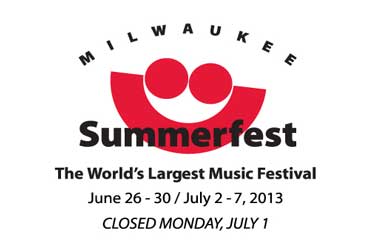 Hey Everybody,
Summer is officially here as of this past Friday.  Summer means: Backyard BBQ's, Graduation Parties, Up-North Vacations, and Festivals.  The biggest festival of them all kicks off today.  Of course I'm talking about Summerfest.  The lake fronts biggest attraction runs from June 26-30/July 2-7.  11 days of over 800 acts performing on 11 stages with some of music's biggest starts, up and comers, and local favorites.
If you like music, odds are you will love Summerfest.  Every genre is represented on the 75-acre grounds.  Alternative Rock, Country, R&B, Pop, and Reggae.  Marcus AmpitheaterHeadliners this year include: Jason Aldean, Eagles, Tim McGraw, the always popular Tom Petty, even New Kids on the Block are joining in on the fun this year.  Did I mention FUN. would be performing?
Summerfest is undoubtedly the World's Largest Music Festival.  But there is a lot more going on down by the lakefront than music.  What would an outdoor festival be without Food?  This year, over 40 vendors will be on hand pumping out mounds and mounds of great food.  If it's fried, odds are someone is serving it.  Restaurants on hand will include: Rupena's, Saz's, A.J. Bombers, and Botanas, just to name a few.  What is great food without great beer?  Miller Coors will be available all over the entire grounds for everyone to enjoy.  Well, everyone over the age of 21…
Summerfest offers more than music and beer. But who needs more than that?  There are family friendly exhibits on hand to offer entertainment to Fest goers of all ages.  Live theater performances, zip lining, paddle boating, and interactive exhibits from top companies and brands.  There are also 4 market places offering apparel, jewelry, artwork, and official Summerfest merchandise.  You could even see your face on a billboard thanks to the new, interactive, real-time, #SFLive Lounge campaign.
Getting together with 900,000 of your closest friends can only happen once a year. If you have the opportunity to stop by the Summerfest Grounds with family and friends this year I suggest you do.  They even run admission specials and discounts.  Check out www.summerfest.comfor a day –to- day break down of all the acts and events.
Did I forget to mention The BIG BANG?
Until Next Time,
Todd Ruedt #growingdreams
Call GMS – 262.784.8219 (Mon-Thurs 8am-4:30pm, Fri 8am-3:30pm)
Email GMS – info@groundsmaintenancewi.com
"Like" GMS on www.facebook.com/GMSwi
Follow GMS on Twitter @GMSwis
<<-- Back to List
Email to a friend