New or Replacement Landscaping? Fall is the Best Time for New Plantings!
Conventional wisdom holds that fall is the best season to grow new grass. It's true.
Less conventional – but no less true – is that this colorful stretch between summer and winter is the best time to plant new trees, shrubs and other perennials. While mature trees are shedding leaves, new plantings can get a great start on establishing a new home.
If you're putting in a fire pit, as our recent posts explored, a privacy screen of plantings is often part of the project. Or, if the goal is to spruce up planting beds, or completely renovate landscaping, now is the time to act.
Why? The days are cooler, and nights cooler yet. Morning dew often speckles the grass. These conditions are very hospitable to getting new plants rooted.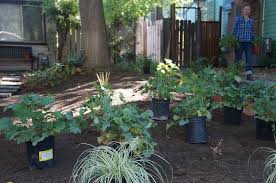 Here are additional reasons to consider adding (or replacing) plants in your landscaping:
No drought: New plantings don't have to battle the elements to survive. In fact, with summer just ended, we're as far away as possible from the plant-stressing heat and dryness of summer. They have at least half a year to grow strong, and be ready.
The cool really is cool: Lower temperatures mean that plants need less water. Yes, you still should water new plantings regularly. It just doesn't have to be every day, as in the warmer months.
Great deals available: Nurseries are working to sell their remaining plant stock, yet demand is typically low. Bargains can abound.
Of course, all these positives mean much less if new trees and shrubs aren't correctly planted. Mistakes are common. Our next post will explain the right way to get new plants in the ground, and off to a strong start.
Unsure what to plant? No time to plant? Contact GMS, your lawn and landscaping service partner in Brookfield, Elm Grove and New Berlin, WI. We'll help you select the right landscape plantings, and get them dug in and growing.
"Conventional wisdom" isn't everything it's cracked up to be. Think unconventionally, and your landscaping can be healthier, and more attractive, than ever before.
<<-- Back to List
Email to a friend