A Burning Question: Which Materials are Best for a Fire Pit?
An outdoor fire pit brings friends and families together. The warmth, sounds and movement of open fire can entrance people for hours.
Fall is prime time for backyard fire pits in Brookfield, Elm Grove and New Berlin, WI. As detailed in our last post, all that's needed is enough space, and a decision about which fuel to use (gas vs. wood).
Oh, there are other decisions, though. Properly constructed (such as these photos of projects built by GMS crews), fire pits can be focal points of natural architecture. The wide variety of building materials lets you make a statement with this popular gathering spot.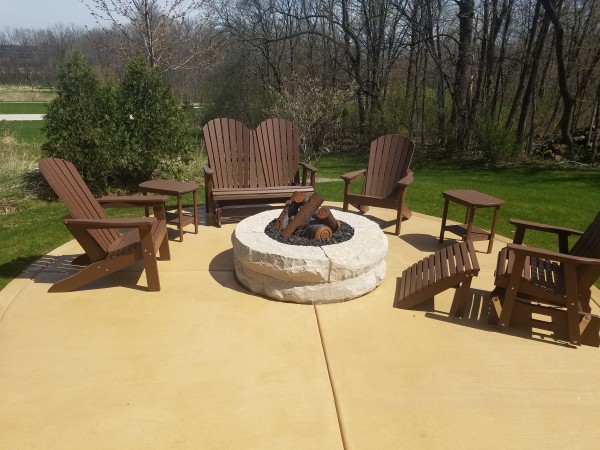 Simply put, a modern fire pit can be as basic or deluxe as desired.
You don't even need a floor for the burning area. A level yard area, graded with dirt or decorative stone, can suffice. A hard surface does allow for easy cleaning, though, which can be a big advantage if burning wood. The closest thing in a gas setup are welded steel logs added for atmosphere.
The walls around a pit is where things get interesting. Fieldstones, or custom-cut lannon stone, offer an artistically rustic look. For those who prefer a symmetric surface, manufactured stone or retaining blocks are typically the materials of choice.
The border ring around the pit – typically at least 6 feet wide – is another opportunity to be as simple (or not) as desired. Personal aesthetic choice is what matters.
Decorative crushed stone is a basic, and inexpensive, option. From there, lannon stone, slate tiles, blue stone, stamped concrete, and pavers and bricks enter the picture. Some involve fairly costly installation, due to the labor involved. Beauty, after all, does have a price.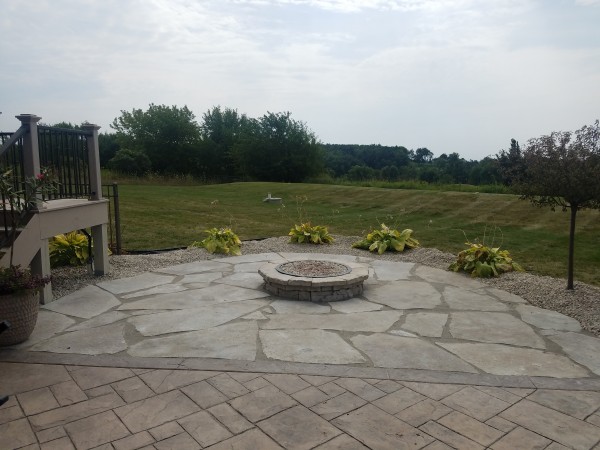 There's no right or wrong when designing your outdoor fire pit. Just be sure to hire a contractor with lots of experience in building fire pits (such as GMS - you're seeing photos of our work here).
Plenty of work beckons as the seasons change. Fall cleanup, pruning and maybe even landscape restoration lie ahead. Wouldn't relaxing around a backyard fire pit be great afterward?
Here's a promise: Build a fire, and you'll never be alone.
<<-- Back to List
Email to a friend