Four considerations in choosing your May mulch
May is the ideal time to add mulch to your planting beds.
The reasons are many: weed prevention. Retention of ground moisture. A clean, tidy appearance. Protection for plants against summer heat.
One overriding question remains: Which type of mulch?
Like many other consumer choices, the decision might boil down to price and aesthetics. These pointers can help you choose the best mulch for your landscaping in Brookfield, Elm Grove and New Berlin, WI:
The free stuff: The mulch at your municipal recycling center is usually free … and with good reason. It's made from other people's garbage. The piles of dead and dying brush at the center are the raw materials. This mulch can be full of weeds, seeds and diseases … but then again, it's free.
Keep in mind that, because this mulch is largely comprised of soft woods, it breaks down quickly. You might have to replenish much of it next spring.
Color palette: Colored mulches, often called "enviro-mulch," are made from ground-up pallets and chemical dyes. The pallets are pine, so this mulch makes soil more acidic. Changing the pH levels in soil affects growing conditions.
Species such as evergreens, oaks, dogwoods, yews, boxwoods and Lily-of-the-Valley prefer acidic soil. Other species don't do as well. This is important for planning new plantings, or understanding how existing greenery could be affected.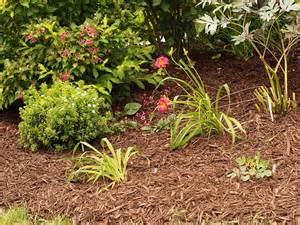 The hardwoods: This is the best option for many reasons. These mulches add nitrogen to soil, providing a vital nutrient for plants. The covering lasts a long time. It's usually the priciest, too. You'll have to buy from a garden store (read labels on the bags to be sure it's hardwood) or a professional landscaper.
If you like the look of colored mulch, consider putting a base of hardwood mulch directly on top of soil, then the colored material on top. You'll have the best benefits of both.
The rubber stuff: It's artificial, and lasts longest, but is purely an aesthetic option. Moisture retention is minimal. Obviously, it adds no nutrients to soil.
Still unsure which route to take? Contact GMS for a professional opinion. We'll provide the mulch delivery and spreading, too, in Brookfield, Elm Grove and New Berlin, WI.
No matter which type is chosen, you can't really go wrong with mulch. The important part is to mulch your planting beds soon. What seems like work (or expense) now will pay dividends in summer, when you'd probably prefer to be doing other things.
<<-- Back to List
Email to a friend