Facing Down the Emerald Ash Borer
The emerald ash borer was discovered in March on Brookfield's southeast side. It might have been present for some time, though. No one knows how far it's traveled.
If you have ash trees on your property in Brookfield, Elm Grove and New Berlin, WI (as most homeowners do), they might have already been attacked. The emerald ash borer (EAB) is tiny, but its diminutive size has not prevented it from wreaking a swath of horticultural havoc across the U.S. and Canada.
The invasive pest, native to China, kills ash trees wherever it appears. Unfortunately, we can expect the same outcome here for many that are not proactively protected.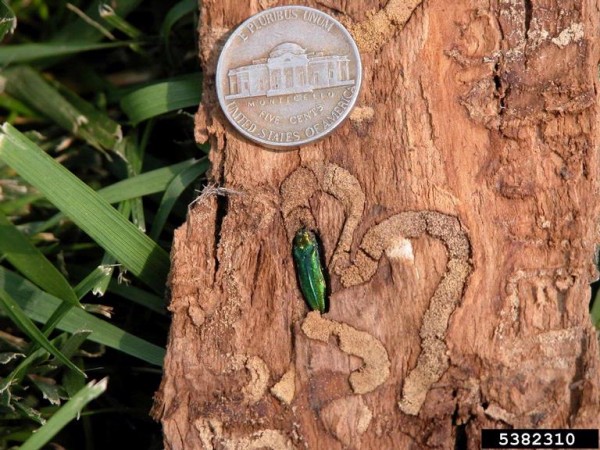 A tree already infected by the EAB isn't necessarily a lost cause, though. Caught early enough, the invader can be stopped and defeated.
The first key is recognizing the symptoms of EAB attack:
Noticeable dieback of leaves and branches at the top of an ash tree. The canopy thins. Light shines through where it didn't previously.
Woodpeckers taking an intense interest in the tree. The birds feed on EAB larvae. The result is an appearance as if strips of bark have been peeled away.
S-shaped patterns beneath a tree's bark, telltale signs of EAB larvae.
The last one is critical. The ash borer attacks trees at the top. If you notice the first two symptoms, but no S-patterns are found in a tree's lower reaches, the tree might yet be saved with an insecticide treatment. Contact GMS to learn more.
Protecting trees from the ash borer requires annual or biannual treatments, depending on the type chosen. GMS's arbor partner, Hoppe Tree Service, recommends treating larger trees as the most cost-effective approach.
If you find S-patterns at eye level – meaning, as you stand on the ground – it's too late. The insect has traveled too far in the tree, and done too much damage.
The EAB typically kills ash trees in two to four years. If a tree is badly infected, Hoppe Tree Service recommends taking it down. The advice is especially pertinent if the tree is within falling range of a house, garage, playset or other structure.
The good news is that preventive treatments for EAB are improving, with fewer repeated applications necessary. The bad news is that the green invader isn't slowing down. Announcements of new ash borer discoveries in Wisconsin appear with sad regularity.
As your landscaping and lawn services partner, GMS is committed to keeping your yard and greenery healthy. It's no fun having to explain the potential devastation from something like the emerald ash borer.
The flip side is that, armed with the right information, you can choose to act. We didn't invite the EAB into our yards … but we can be smart about fighting it.
<<-- Back to List
Email to a friend