Saying Goodbye to Your Christmas Tree
Sure, it might still smell good. Perhaps it brings back fond memories only recently past.
But if your Christmas tree is shedding more and more needles, the message is clear: Shed the tree.
Let's face it: Christmas trees have a shelf life. The holiday was nearly two weeks ago. New Year's is come and gone. Time to bid adieu to this season's tree, as festive as it might have been.
So what now? Where to go with the rapidly-drying tree, before it creates a mountain of needles on your floor?
Many municipalities, including Brookfield, New Berlin and Elm Grove, WI, pick up Christmas trees. Usually they are left curbside, or at the end of a driveway. Be sure to remove all lights and decorations. Don't wrap the tree in a bag or other plastic, either.
Here's the pickup schedule for these three communities:
Brookfield: Ongoing through Jan. 18
New Berlin: Entire month of January
Elm Grove: Jan. 11-29
Live elsewhere? Check with your local public works department about Christmas tree collection. Be careful, too, leaving that tree next to the curb. Don't obstruct visibility from the street or nearby driveways. Make sure it's not hanging into the roadway, either.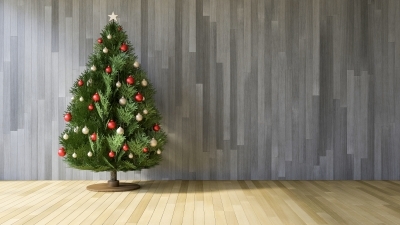 Image courtesy of Suriya Kankliang  at FreeDigitalPhotos.net
Want to minimize the mess getting a tree out of your house? Follow these tips:
1)      Trim minor branches inside. The tree will have grown stiff and brittle. Its branches won't bend if they hit something.
2)      Wrap the tree in an old sheet or tarp to contain needles and prevent branches from scraping doors and walls.
3)      Clean up spilled needles quickly to prevent sap residue from damaging flooring or furniture. Don't miss needles hiding in nooks and crannies!
4)      If the tree is stuck in its stand, try removing the stand's water with a shop vacuum to loosen it up.
Some municipalities don't collect trees. "Green" alternatives still exist.
Recycling centers often accept Christmas trees. If you live in a wooded area, drag the tree out among the foliage, where birds and animals will use it for protection and food. Break the tree up for kindling. Or, a nearby farmer might value the tree for – believe it or not – goat food.
If you just want your tree gone, without worrying about the "how," call GMS at 262-784-8219. We'll pick up the tree and clean up after it, too.
For many, carrying the Christmas tree outside symbolizes the real end of the holiday season. A new year lies ahead, though, flush with hope and opportunity. In this sense, maybe getting rid of the tree isn't really an end … but a beginning.
<<-- Back to List
Email to a friend