Help us feed the hungry in our communities!
Hunger? Here? In supposedly well-off suburban communities?
Yes, hard as it is to believe. Those of us fortunate enough to have food in our pantries and freezers might think of hunger as a problem that happens elsewhere.
Yet a calamitous event – job loss, serious illness, a death – can send a household spiraling down into what is coldly termed "food insecurity." In common language, that means empty plates … and it even happens in Brookfield, Elm Grove and New Berlin, WI.
How do we know? The New Berlin Food Pantry serves 100 to 125 households every month in our communities. These are real people. We might not know who they are, but very possibly see them in church, or pass them on the street.
It's time to make a difference (again). We invite you to join GMS and eight fellow local businesses as we team up to tackle hunger in our backyards, and help our neighbors who face uncertainty at every meal time.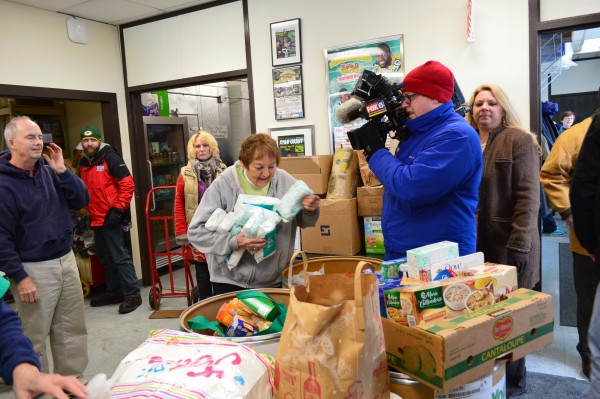 Just like last year, when we collected more than two tons of food and other needed items for the New Berlin Food Pantry, we'll again be accepting donations of food, diapers, cleaning products and personal hygiene items through Nov. 16.
What's different? This year we hope to collect THREE tons!
Here's where you can drop off donations – just look for the bins:
ActionCOACH Business Coaching, 13150 Watertown Plank Road, Elm Grove
Charlie's East Coast Hair Designs, 285 N. Janacek Road, Brookfield
First Watch, 17550 W. Bluemound Road, Brookfield
Jazzercise, 17800 W. Bluemound Road, Suite Q, Brookfield
Lyle Husar Designs, 17395 W. Bluemound Road, Brookfield
Movin' & Lubin', 2350 S. Commerce Drive, New Berlin
Skiin, 21675 Moreland Blvd., Waukesha
The Oilerie Brookfield, 17125C W. Bluemound Road, Brookfield
Can't get to a collection spot? Call us at (262) 784-8219 and we'll pick up your donation. We'll make it as easy as possible for you to help others.
The holiday season isn't far off. Typically, there's a lot of food involved. Our goal is to fill the shelves at the New Berlin Food Pantry, to ensure that everyone who needs has it … regardless of the calendar.
Why? Because wondering whether you can feed your family is certainly no holiday.
<<-- Back to List
Email to a friend