Give your lawn a deep breath this fall!
After a summer and early fall of people and pets running, riding and having fun on your yard, its grass might be feeling a bit beaten down.
Walk across your lawn – what do you feel? Hardness? No give? Missing the sponginess you expect?
In landscaping parlance, the term is "compaction." A compacted lawn is a weakened lawn. Water runs off, instead of absorbing into soil. Nutrients don't penetrate. Grass and plants have trouble rooting.
Given that your lawn should be storing energy for a months-long dormancy, fall compaction can be a serious threat to its long-term health.
The solution – once again, as we wrote about in the spring - is lawn aeration in Brookfield, New Berlin and Elm Grove, WI.
If you aerated this past spring, no need to do so again. It's one or the other. Actually, fall aeration is preferable. The aerator is cutting into grass root systems that are going dormant, rather than just starting to grow. In both cases, though, aeration offers tremendous benefits.
Here's why: Aeration (literally) loosens things up. The process physically pulls out plugs of soil, opening channels for water and nutrients to enrich the ground. Water or fertilize right afterward, and you kick-start the benefits.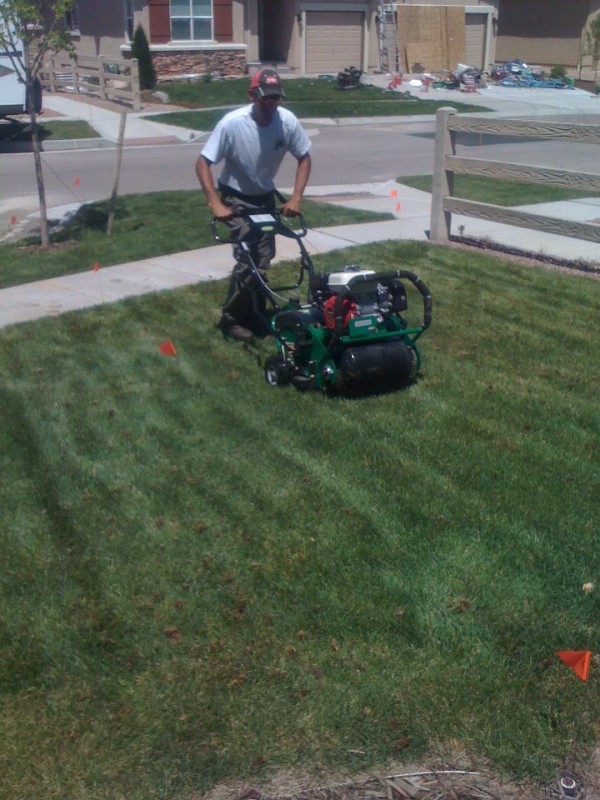 Granted, aeration is a bit messy. Soil plugs litter the lawn. The scene resembles a visit from a large flock of geese with digestive problems. Don't worry - the plugs quickly break down and disappear.
If your lawn experienced lots of activity this summer, aeration is a smart move to consider before winter. We at GMS can still fit you in the fall aeration schedule – just give us a call.
Prefer to do it yourself? Know ahead of time that aerating is not for the faint of heart. You'll need a strong back (or helpers with strong backs) and the means to haul a piece of heavy equipment.
We'll explain the details of proper aeration next week. In the meantime, call equipment rental stores to check the availability of aerators. Reserve one, and get ready to give your lawn a deep breath!
<<-- Back to List
Email to a friend