Thank You for Standing Against Domestic Violence!
Another charity collection drive … another amazingly generous response from our customers and friends.
Our April collection for The Women's Center in Waukesha, teaming with eight other local businesses, gathered more than 500 items for mothers and children staying at the shelter.
How do we say it again? OK – "wow." And "thanks," too.
Everyone who donated, no matter how big or small, made a difference. The Women's Center helps families coping with domestic violence. Often they arrive with little more than the clothes on their backs. Your generosity signaled that we, as a community, won't tolerate domestic abuse.
But don't take our word for it – here's what Angela Mancuso, Executive Director of The Women's Center, said: "A drive like this sends a message to our clients and to families affected by domestic violence in our communities, that there are people who care about and want to help them. And that's a powerful message."
See? Even the simple act of donating a box of diapers, or some kids books, or a gift card, matters greatly. Small gestures add up to big results.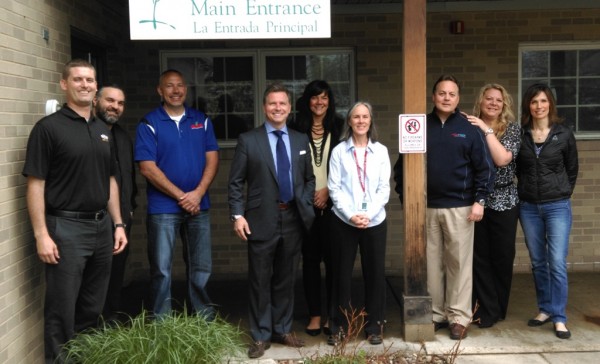 Here's a sampling of what the nine businesses collected: More than 130 books. More than 200 packages of personal care items (shampoo, soap, makeup, hair products, dental products). More than 60 packages of diapers and other infant needs. More than 40 games and kids activities. More than $300 in gift cards.
This initiative was eye-opening in many ways. As people donated, they opened up. Several business owners heard stories of domestic abuse firsthand. It reinforced that the problem exists everywhere, even in "good neighborhoods" in Brookfield, New Berlin and Elm Grove, WI. It reminded us of the importance of being vigilant, and empathetic, and ready to help.
Speaking of which, here's one more shout-out to our partners in the Women's Center drive: ActionCOACH of Elm Grove, Brookfield Dance Academy, Charlie's East Coast Hair Designs, Elite Sports Club (two locations), First Watch, G2 Insurance Services, Lyle Husar Designs, and The Oilerie Brookfield.
Thanks again to everyone who donated items and helped spread the word. You reminded us yet again of why we're proud to call this community "home."
<<-- Back to List
Email to a friend