If it's June … it's time for "June prune!"
Pruning trees, plants and shrubs properly is all about timing.
Trees, for example, are best pruned in winter. They aren't growing, so it's perfect for removing limbs (despite the often-frigid conditions).
The exception is evergreens, which grow all winter. The best time for their pruning is early summer … or, right about now!
The same holds true for flowering plants. Early summer pruning – a "June prune" – is highly recommended for perennials, shrubs and bushes. Careful trimming now helps keep your landscaping and planting beds healthy all season in Brookfield, Elm Grove and New Berlin, WI.
Why? Plants need to recoup energy after flowering. A "June prune" prepares them for the hot, dry weather ahead. Pruning shapes plants and sets the stage for steady, controlled growth the rest of the year.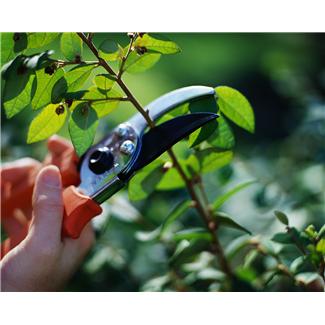 Some basic rules apply. Use a sharp shears to avoid ragged cuts. Don't cut back more than one-third of a plant's size. And, water afterward to help plants recover.
If you're really being careful, follow this rule of thumb: Trim back leafy branches to the nearest junction with another branch. No farther. Cutting off too much can weaken a plant, at a time when it's already facing stress from heat.
If you haven't already done so, adding mulch to planting beds is still a good idea. Mulch retains soil moisture and protects root systems. Most homeowners appreciate its clean, inviting look, too.
If mulch and pruning remain on your "to-do" list – and might be for some time – feel free to contact GMS for help. Our trained crews can take these projects off your plate, freeing up time for other things that, just maybe, you'd rather be doing.
No matter who does it, a "June prune" encourages new growth on plants and improves their overall health. Its name is appropriate, though. Don't wait too long for pruning. Like many other things in life, it's all about timing.
<<-- Back to List
Email to a friend