Protecting Your Trees from the Emerald Invader
Local homeowners love their trees. Mature, leafy greenery fills residential landscaping in Brookfield, Elm Grove and New Berlin, WI.
Chances are, of the trees in your yard, some are ash. One of every five trees in suburban Wisconsin is an ash species. Unfortunately, these trees are threatened by an alien invader, one that has wreaked a path of destruction over much of the U.S. and Canada in the past two decades.
The emerald ash borer (EAB) was discovered in Brookfield a month ago. Since being first found in Wisconsin in 2008 near West Bend, this Asian insect has gradually burrowed into every southeastern county.
Now, it's arrived locally. According to Hoppe Tree Service, which partners with GMS on tree pruning and arbor management, every ash tree in Brookfield, Elm Grove and New Berlin could be attacked in the next two years.
Don't lose hope. Effective protective measures are available … but "sooner" is definitely better than "later" to employ them.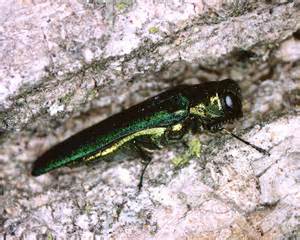 Hoppe Tree Service recommends one of these steps to protect your ash trees:
1)      An insecticide injection directly into the tree trunk. This is the most effective treatment, lasting two years. Cost is based on diameter of the trees, running $8 to $10 per inch.
2)      An insecticide application into soil near the base of the tree. While not as potent, this treatment is cheaper - $2 to $5 per diameter inch. Annual reapplications are necessary, though.
Interested in scheduling a consultation about treating your ash trees, or learning more about the process? Contact us to make arrangements.
EAB is a huge threat for a simple reason: It's not native to the U.S. With no natural predators, the green beetle has become a tiny (half-inch) killing machine for millions of ash trees.
The sad reality is that it's here. The good news is that you can prevent it from destroying the trees you love.
Our next post will examine the symptoms of EAB infestation, and options if you recognize them in your trees. As your landscaping and lawn services partner, GMS is committed to keeping you informed … even if we can't always deliver happy news.
<<-- Back to List
Email to a friend