Four tips to help your potted annuals bloom brightly!
We love putting annuals in pots (or other containers) for a simple reason: Doing so allows us to enjoy their festive colors almost anywhere.
Decks, patios, front steps, poolside – wherever there's open space, or a spot to install a hook (for hanging baskets), you can enjoy the bright vibrancy of summer flowers in Brookfield, Elm Grove and New Berlin, WI.
Planting annuals in landscaping is fairly basic. Measure, dig, add soil or fertilizer, and water. Really, the only maintenance is clipping off dead buds.
Potted annuals? A different story altogether. They require much more attention than their terrestrial brethren. These tips can help get your potted annuals off to a great start, and stay that way:
1) Choose the right container: Size matters. Read labels when buying annuals to learn how big a plant will get, and how much space it needs. Pick a pot that's large enough – too much room is better than too little! Finally, be sure the container has drainage. Plants can literally drown without it.
2) Get your hands dirty: Don't skimp on soil. Use quality packaged potting soil. Annuals need lots of nutrients, which soil dug up from a yard usually lacks. Also, don't add mulch, which retains a lot of moisture and can cause root rot.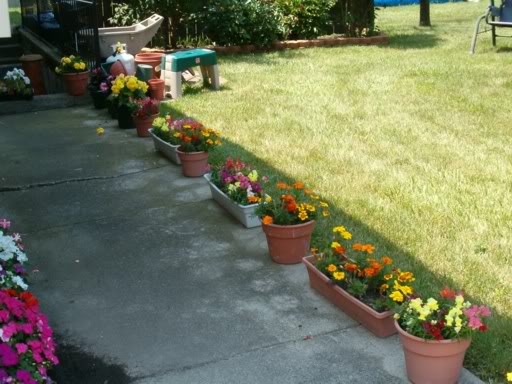 3) Water … again and again: Water annuals at least every other day, especially in hot weather. Containers can lose moisture quickly. Besides the sun, reflected heat from surrounding concrete and structures dries them out. If pots are drying out too quickly, consider using water-absorbing pellets, found at your garden center. These pellets slowly release water into soil, maintaining consistent moisture levels.
4) Feed well: Adding plant food monthly will keep annuals blooming longer. Again, read the package to match the right food with your plants.
Sure, keeping potted annuals healthy is a bit of work. Here's what makes it worthwhile: Any place that needs color, or some brightness, can be livened up right away. Annuals might not last long, but certainly make everything around them better.
<<-- Back to List
Email to a friend